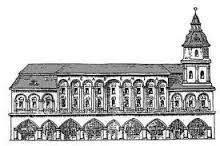 The political confrontation that has emerged in Ukraine during the past two months has passed through several stages of development. It represents the reaction of civil society to the refusal of the signing of an Association Agreement between Ukraine and the European Union, the brutal beatings of students on Independence Square in Kyiv on the night of November 30, 2013, and the adoption of dictatorship laws on January 16, 2014. At this stage the government can maintain civil peace only by meeting the just demands of the outraged people, this being its primary responsibility.
The National University of "Kyiv-Mohyla Academy" believes that the Parliament of Ukraine at its meeting on January 28 should completely revoke the unconstitutional and anti-democratic laws that were passed in contradiction of procedure and common sense. All people unjustly convicted in peaceful protests should immediately be released, and the government that brought the country to bloodshed should immediately resign. This may become the first step in overcoming the confrontation, which has been accompanied by murder, kidnapping, torture, the involvement of criminal elements, the exploitation of public sector employees, and information wars aimed at the destruction of Ukrainian independence.
Under such conditions, The National University of "Kyiv-Mohyla Academy" cannot guarantee the personal safety of its students. Therefore, the January 27-31 academic week will be conducted remotely. National University of "Kyiv-Mohyla Academy" students can study at home, in dormitories, or at the residences of parents and family outside of Kyiv.
We urge the government to listen to the demands of the opposition. We call on both sides to begin a constructive dialogue in order to overcome the political crisis and prevent further escalation of aggression and violence.
The Administration of NaUKMA
Januaryб 25, 2014.